Hotels & Travel
Restaurants
Automotive
Industries
Business Distribution by Industry
Hotels & Travel: 24.8%
Restaurants: 20%
Food: 9.5%
Sports & Activities: 9.5%
Automotive: 6.7%
Professional Services: 6.7%
Industry: 5.7%
Shopping: 5.7%
Other: 11.4%
| | |
| --- | --- |
| Area of Sandhamn, Stockholm County | 0.27 km² |
| Population | 188 |
| Population change from 1975 to 2015 | +19% |
| Population change from 2000 to 2015 | +19.7% |
| Neighborhoods | Sandhamn |
| Local Time | Friday 10:25 AM |
| Timezone | Central European Summer Time |
| Lat & Lng | 59.28333° / 18.91667° |
| Postal Codes | 130 39 |
Sandhamn, Stockholm County - Map
Sandhamn, Stockholm County Population
Years 1975 to 2015
| Data | 1975 | 1990 | 2000 | 2015 |
| --- | --- | --- | --- | --- |
| Population | 158 | 164 | 157 | 188 |
| Population Density | 585.2 / km² | 607.4 / km² | 581.5 / km² | 696.3 / km² |
Sources: JRC (European Commission's Joint Research Centre) work on the GHS built-up grid
Sandhamn Population change from 2000 to 2015
Increase of 19.7% from year 2000 to 2015
| Location | Change since 1975 | Change since 1990 | Change since 2000 |
| --- | --- | --- | --- |
| Sandhamn, Stockholm County | +19% | +14.6% | +19.7% |
| Stockholm | +72.3% | +42.4% | +25.3% |
Sources: JRC (European Commission's Joint Research Centre) work on the GHS built-up grid
Sandhamn, Stockholm County Population Density
Population Density: 696.3 / km²
| Location | Population | Area | Population Density |
| --- | --- | --- | --- |
| Sandhamn, Stockholm County | 188 | 0.27 km² | 696.3 / km² |
| Stockholm | 2.2 million | 16,648.4 km² | 133.6 / km² |
Sources: JRC (European Commission's Joint Research Centre) work on the GHS built-up grid
Sandhamn, Stockholm County Historical and Projected Population
Estimated Population from 1975 to 2100
Sources:
1. JRC (European Commission's Joint Research Centre) work on the GHS built-up grid
2. CIESIN (Center for International Earth Science Information Network)
3. [Link] Klein Goldewijk, K., Beusen, A., Doelman, J., and Stehfest, E.: Anthropogenic land use estimates for the Holocene – HYDE 3.2, Earth Syst. Sci. Data, 9, 927–953, https://doi.org/10.5194/essd-9-927-2017, 2017.
Area Codes
Percentage Area Codes used by businesses in Sandhamn
Area Code 8: 72%
Area Code 70: 16%
Area Code 72: 8%
Area Code 76: 4%
Business distribution by price for Sandhamn, Stockholm County
Inexpensive: 50%
Moderate: 31.2%
Expensive: 18.8%
Human Development Index (HDI)
Statistic composite index of life expectancy, education, and per capita income.
Sources: [Link] Kummu, M., Taka, M. & Guillaume, J. Gridded global datasets for Gross Domestic Product and Human Development Index over 1990–2015. Sci Data 5, 180004 (2018) doi:10.1038/sdata.2018.4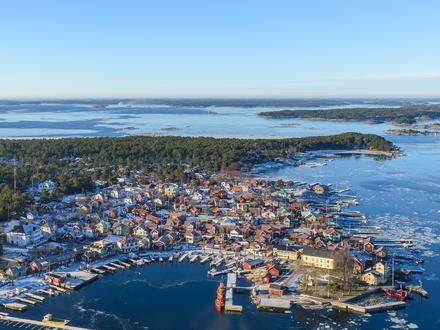 Sandhamn, Stockholm County